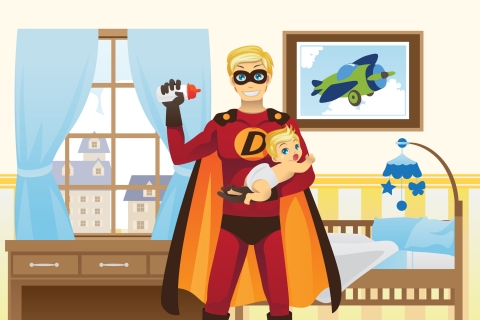 © Photographer: Artisticco Llc | Agency: Dreamstime.com
Being a great dad and husband go together like peanut butter and jelly. It is important for us men to keep in mind that even though we are dads, we are also husbands.
With a newborn to take care of, there will be less time for just you and your partner. Often times new dads will begin to feel neglected as their partner is more focused on the newborn. While perfectly normal, there following advice for dads is aimed at making sure there is a balance between being a father, and being a husband.
Here's some advice to help a new dad succeed at marriage and fatherhood:
Remember that you and your wife are still married.
Don't neglect that you and your spouse have needs too. Just because this new little being has come into the picture and needs you for everything doesn't mean the romance is dead. Find ways to make personal time with your spouse and maintain a strong marriage by putting it first. Have someone baby sit for an evening and spend some time alone.
Be Helpful.
Up until now your spouse has been doing all the work being pregnant and all. Now it is your turn to share the burden and help out whenever possible. Even just cooking and cleaning can go a long way.
Show affection often.
Children learn from their parents. Show how much you care for each other and your children will take notice.
Team up with your spouse.
Make sure you and your spouse can come to an agreement on how to raise and discipline your child. The last thing you want to do is undermine your spouse and vice versa. Children need to know that mom and dad are a united team when it comes to running the household.
Smile and Bond Early.
Leave any work stress at the door before coming home. Your children will always be excited to see their dad. Spend time with them, bond and play. Connect at an early age and the bond will last a lifetime.
Don't be expect too much.
Don't put adult expectations on a child. Kids are great at getting into trouble from doing the dumbest things. This can cause you to lose patience quickly. Make sure to recognize their limitations, pushing them too hard can cause them to lose confidence in themselves.
Being a great dad and husband is not rocket science but mainly common sense. Keep this advice in mind and you, your spouse, and children will have a happy and healthy relationship.
—
Visit CleverFather.com for more Advice for Dads and Parenting Tips.
Article Source: http://EzineArticles.com/3432315
Category: Articles