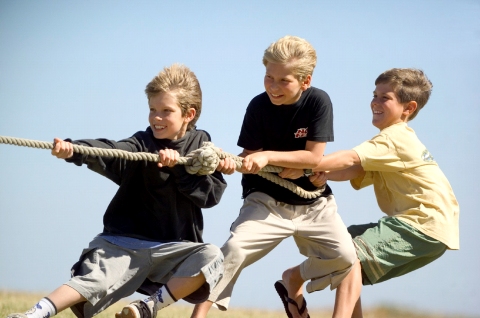 – I would like to share some of the ideas I have come up with for great Father/Son activities, says Mark W.  Foster. He is the  father of two boy, and he really loves to spend time with them.
I have two boys. I love spending time with them. However, finding things for them to do is not always as easy as it sounds. When I have a day off or a free afternoon, I like to spend time with them. I would like to share some of the ideas I have come up with for great Father/Son activities. I will list them in order of their cost.
Free Activities
Take a walk or ride a bike. (Seriously, my little guys love this!)
Play a board game or teach them a new one. (One of our favorites is Checkers.)
Wrestle. (C'mon, you know you can do it!)
Play catch. (Frisbee, baseball, football, etc.)
Build a fort out of blankets and pillows in their bedroom or in the living room. (Make sure to clear this with Mom!)
Watch a movie together. (Granted this may not seem like time spent together, but hey, it's just an idea.)
Fly a kite.
Low-Cost Activities
Go Fishing
Go out for an ice cream or a hot dog.
Go to the car wash and let them help you wash the car.
Learn a new skill together. (This is free if you have a book, or you may find an inexpensive class in your community.)
Go bowling.
Practice archery or target shooting. (Always use appropriate safety procedures!)
Mid-Cost Activities
Go on a camping trip.
Go out to eat.
Take Martial Arts Lessons Together
Build something.
Get a gym membership together. (This is age specific.)
The truth is that with a little imagination, you can find plenty of things to do with your sons. The important thing is that you spend time with them. The two most popular activities my sons like to do with me are wrestling and playing checkers. Neither of those cost me any money. As they get older, I expect that their tastes will change a little bit.
Budget some money to spend on your sons, but don't overdo it. You don't want them to get the idea that the only things that are fun cost a lot of money. In fact, I would recommend that the mid-cost activities be done less often.
Lastly, just quit making excuses. Get in their and spend time with your boys. They will grow up soon enough, and you will be glad you did!
Category: Articles