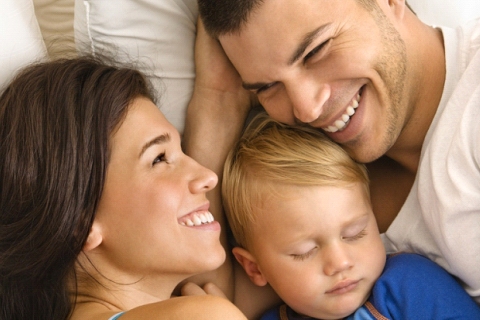 The presence of a strong, reliable and involved dad is an important factor in the positive development of a child, the confidence of a mother and the harmony within a home. Unfortunately dad's contribution may go unappreciated and is not always encouraged.
The more involved and appreciated dad is in everyday matters during the early days, the more likely he will be involved months and years down the track. Being a hands-on dad helps him connect with his children rather than leaving him to feel left out and drift away. Dad needs opportunities to get connected and feel valued. It is within the structure of ordinary daily activities that emotional bonds between a child and his dad are made. Some of these everyday activities include bath or shower time, nappy changing, burping, massage and in some cases bottle feeding and serving solids. Stand nearby while he learns to do these tasks in the early days and when you see he is confident, trust him and take the opportunity to have a bit of time to yourself and leave them both to bond.
A sleeping, playing and feeding routine is very important to help your little one feel secure but within this arrangement there is room for individual difference – dad often allows more mess and rocks him higher.
Help dad master nappy changing but be careful not to make this his only job – he is capable of much nicer responsibilities. Some dads find this task repulsive but a nose peg and some positive encouragement should help.
Obviously dad is unable to breastfeed but if he is available he can certainly burp baby either during or at the end of a feed. Up over the shoulder and walking about usually gets the quickest response.
During the early days baby's demands can feel overwhelming and dad can feel inadequate being quick to hand him back for a feed if he cries. If you give dad some positive encouragement and gentle instruction to help him master the art of settling it is a godsend. His firm hold, soothing hum and rhythmical rock to his beating heart maybe all it takes to settle baby to sleep. A quick feed can be a solution to his crying but not always necessary unless he's hungry. If dad has success settling baby, it builds his confidence and he is more likely to offer help next time rather than waiting to be asked.
Dad loves to play – after all he is really just a big kid himself. Children learn about the world through play from a young age. Babies are stimulated with movement, smell, sound, touch and sight. Don't begrudge the play dad has with your little one as the brain does a lot of developing during these times. Your baby will learn to control his emotions from a state of excitement to calm with the swinging and tumbling movements that dad often enjoys doing with him.
Fresh air is important. Go for a walk together and let dad push the stroller or wear the carry sling. Your baby enjoys the association and watches his face for comforting and reassuring looks. It is important for dad to make the most of every opportunity to connect with his child on an emotional level.
Dad usually loves an opportunity to lie around. Get him to lie on the floor and let your baby experience tummy time on his hairy chest and feel the vibrations of his deep voice as he reads or talks (avoid lying on couches in case he nods off while holding bub).
When dad works long hours or is away from home for weeks at a time, it makes it difficult for him to keep up with his baby's rapid growth and development. This can make him feel disconnected, not knowing how he can make a useful contribution. Make a conscious effort to communicate with each other and work out what he can do and encourage him in specific tasks. Dad doesn't always instinctively know what to do. When dad lives or works away it is important to keep him around in some way on a daily basis. Depending on how old your baby is you could skype together, write notes and put them under his pillow, draw pictures, kiss photos goodnight and listen to phone calls. This way dad is not such a disruption or stranger when he does visit.
Today there are families raising babies and children without a male parent. These children need a male mentor – an uncle, brother, grandfather, friend or work colleague to provide balance and bring the masculine input that only a man can do.
Dad provides a vital contribution to the overall development of his children both now and in the future. Include dad, appreciate him and enjoy the different input and role he offers.
Jan Murray has been committed to studying and working as a Registered Nurse, Midwife and Child Health Nurse for over 25 years. Jan is a mother of 5, Child Health Consultant who co-founded and directs Settle Petal. Jan provides information and support for parents to develop their knowledge base and confidence. Receive your FREE Routines eBook and feel supported raising babies and toddlers at http://www.settlepetal.com. Unlock a secret to helping babies settle, sleep and grow.
Article Source: http://EzineArticles.com/7421067
Category: Articles